Feeding Under 1 – What to Know
03.06.2023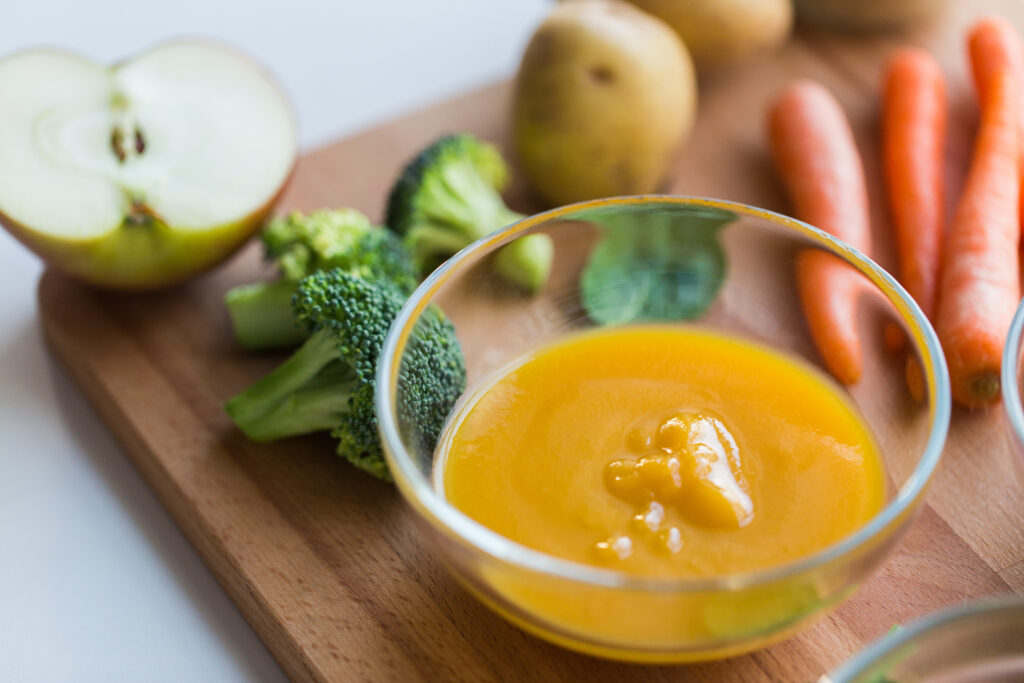 It is stressful for a parent to follow the developmental milestones that are provided from the pediatrician for feeding under 1. And let's be honest, it is also hard to follow the various online resources readily available. It can appear that information is not straight forward when it comes to answering the big questions of "when do I start solids with my baby?" or "what foods do I first give my baby?" Let's answer these questions with recent research.
Feeding Under 1: up to 6 Months of Age
Firstly, until 6 months of age, a child's intake should consist only of breast milk, formula, or a combination. This ensures the child is obtaining the optimal amount of vitamins and minerals for body and brain growth. When deciphering the most optimal time to begin solids, there are a few factors that must be considered. These include the child's immune system, sensory system, and motor development.
If your family has a history of celiac disease, type 1 diabetes, or other factors, introducing gluten to a baby before 3 months of age or after 6 to 7 months of age seems to increase the risk of celiac disease. Similarly, introduction to cereals, both rice and gluten-containing grains, before 4 months or after 6 to 7 months has been associated with a greater risk of type 1 diabetes.1 The sweet spot to introduce solids may be right before your baby turns 6 months old.2
Feeding Under 1: The Sensory and Motor Systems
Secondly, the sensory system must also be considered. The optimal time to expose your baby to new tastes and textures is 5-6 months. Lastly, when looking at a child's motor development, the following is necessary for introducing solids: head and neck control, trunk stability, sitting up with minimal support, crossing midline, and bringing toys and fists to the mouth.  So, provide lots of tummy time, beginning at birth, for optimal gross motor development and core strength. To summarize, ensure all necessary motor milestones are present while offering a wide variety of flavors with repeated exposures.2
Feeding Under 1: 6 Months and Up
What first foods should you feed and how should you prepare them? First foods can be prepared by steaming, poaching, roasting, pureeing, or offered fresh. As you prepare a food, keep in mind you can use formula, breastmilk, or water to achieve the consistency you want when mashing or blending. Let's take a closer look at examples of a "grocery list" that are presented mashed or blended.3
Foods to Steam or Poach
Apples
Carrots
Cauliflower
Chicken
Pears
Peaches
Plums
Summer Squash and Zucchini
Sweet Peas
Roast These Foods
Apples
Bananas
Beets
Carrots
Peaches
Pumpkin
Sweet Potatoes
Foods to Offer Fresh
Avocado
Ripe Banana
Peaches without Skin
Plums
Soft/Very Ripe Melons
Hummus
You can offer your child what the family is eating if you present it in a safe manner. Foods that are soft and are able to be held should be cut to the size and length of an adult pinky finger for the child to hold in hand and "mouth" the tip. As more food opportunities are offered, the child will continue to develop gross and fine motor feeding skills. Allow development of fine motor skills by dipping a spoon into a puree or offering soft meltables, such as yogurt bites, around 8 months of age. This will help to define the pincer grasp. The pincer grasp occurs when the child can pick up the meltable with the index fingertip and tip of the thumb.
For the first few months of beginning solids, a parent should focus on consistently offering new food experiences and variety to expand tastes and oral feeding skills. However, be aware you should not replace formula and/or breastmilk. Therefore, it's best to introduce solids after and between formula, breastmilk, or combo milk feedings.
For more recommendations or counseling, please voice concerns to your pediatrician or seek assistance from a feeding specialist.
References
Ludvigsson, J. F., & Fasano, A. (2012). Timing of Introduction of Gluten and Celiac Disease Risk. Annals of Nutrition and Metabolism, 60(Suppl. 2), 22–29. https://doi.org/10.1159/000335335
Potock, Melanie with (Katz). Responsive Feeding: The Essential Handbook – A flexible, Stress-Free Approach to Nourishing. Babies and Toddlers. S.L., Experiment Llc, 2022.
‌Fernando, Nimali, and Melanie Potock. Raising a Healthy, Happy Eater : A Parent's Handbook– a Stage-By-Stage Guide to Setting Your Child on the Path to Adventurous Eating. New York, Ny, The Experiment, Llc, 2015.