Holiday S.T.E.M. Activity: Edible Stained Glass
12.15.2021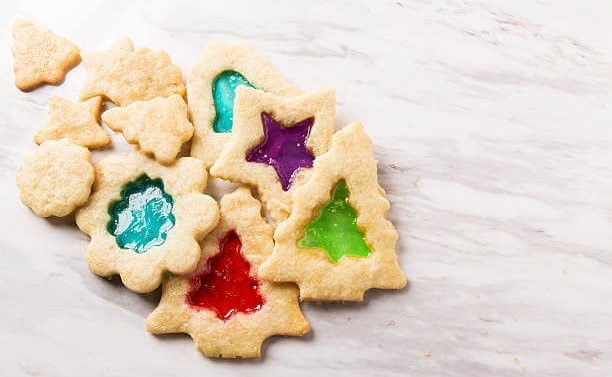 The holiday season is known for the abundance of food and treats. Therefore, this edible stained glass holiday S.T.E.M. activity is a great choice! You will need a base understanding of geometry for this activity. This activity can use premade or store bought candy that is melted, or you can make your own candy.
As previously stated, there are two ways in which one could make stained glass. The first is by making your own candy using corn syrup, sugar, water, and a candy thermometer. The other option is to use store bought hard candy (i.e. jolly ranchers) and slowly melt them down to a liquid state. We will explain both methods.
What You Need for Holiday S.T.E.M Edible Stained Glass:
Hard candy (either homemade or store bought)
Egg whites from 3 large eggs
1 tsp of vanilla extract
4 cups of powdered sugar
½ tsp of cream of tartar
Pretzel sticks and/or rods
Tools Needed:
Candy thermometer
Heavy metal bottomed pot
Wooden spoon
Stove
Mixer
Measuring cups and spoons
Aluminum foil
Heat safe surface
Piping bag
Preparing your stained glass:
Make sure you talk with your child about safety when using hot products. Give each child a heat safe surface covered in aluminum foil. You can use a plate or piece of cardboard. Using the pretzel rods and sticks, have your children map out a frame for their picture. Older kids can do this on their own, and younger kids can follow a printed picture or one outlined in marker. Make sure that all sides connect to make it more difficult for the liquid to flow out and escape the frame.
Royal Icing:
Firstly, you will make the royal icing. Combine egg whites, vanilla, and cream of tartar in a bowl. Mix until frothy. Add the powdered sugar slowly and incorporate it completely. Mix until glossy and peaks form (this will take about 5 minutes). Put the icing in the piping bag. Take your already made template (pretzel structure), and glue down all the pretzels with the icing. Finally, do your best to make sure that there are not any gaps between the pretzels. If you use jolly ranchers, place one jolly rancher into each gap in your picture until every space fills up. This will let you know how many jolly ranchers you will need.
Melting the Jolly Ranchers:
Take all of your like colored jolly ranchers and unwrap them. You may want to add a few extra to be safe. Place into a microwave safe bowl.
Place in microwave and cook at 50% power for no more than 2 minutes at a time.
Mix and melt until you have reached a "molten glass" consistency.
Spoon into appropriate spaces on your template. If you have several templates, try not to do too many at once, as the candy will begin to harden.
You may need to remelt your candy, but keep in mind that if your candy is too thin (not as much volume) you will need to melt in 30 second intervals to avoid burning.
Repeat until all your colors are done, and your template is complete.
If you did your project properly, once it cools, you should be able to lift it off and let the light shine through.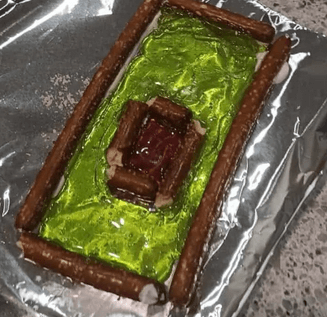 What can be learned from this holiday S.T.E.M. activity?
This holiday S.T.E.M. activity is all about geometry! We use geometry every day. We may not even know it! Firstly, we use geometry to build houses. We use geometry to figure out how many groceries will fit in the trunk of your vehicle. Study art history. See how stained glass has been used throughout time. In addition, research how real stained glass is made, or modify this activity with cookies.
Finally, for more fun activities to do with your kids, check out Hess Un-Academy or MOSAIC's Holiday Mad Lib and Christmas Scavenger Hunt.